While COVID-19 may have prevented many planned cell therapy conferences from meeting in-person, a great many have become virtual, and some are still planning to go on in-person. Here are 10 conferences we want to attend this year. Don't miss out!
It feels like every week there is a new conference, but one person couldn't possibly attend them all.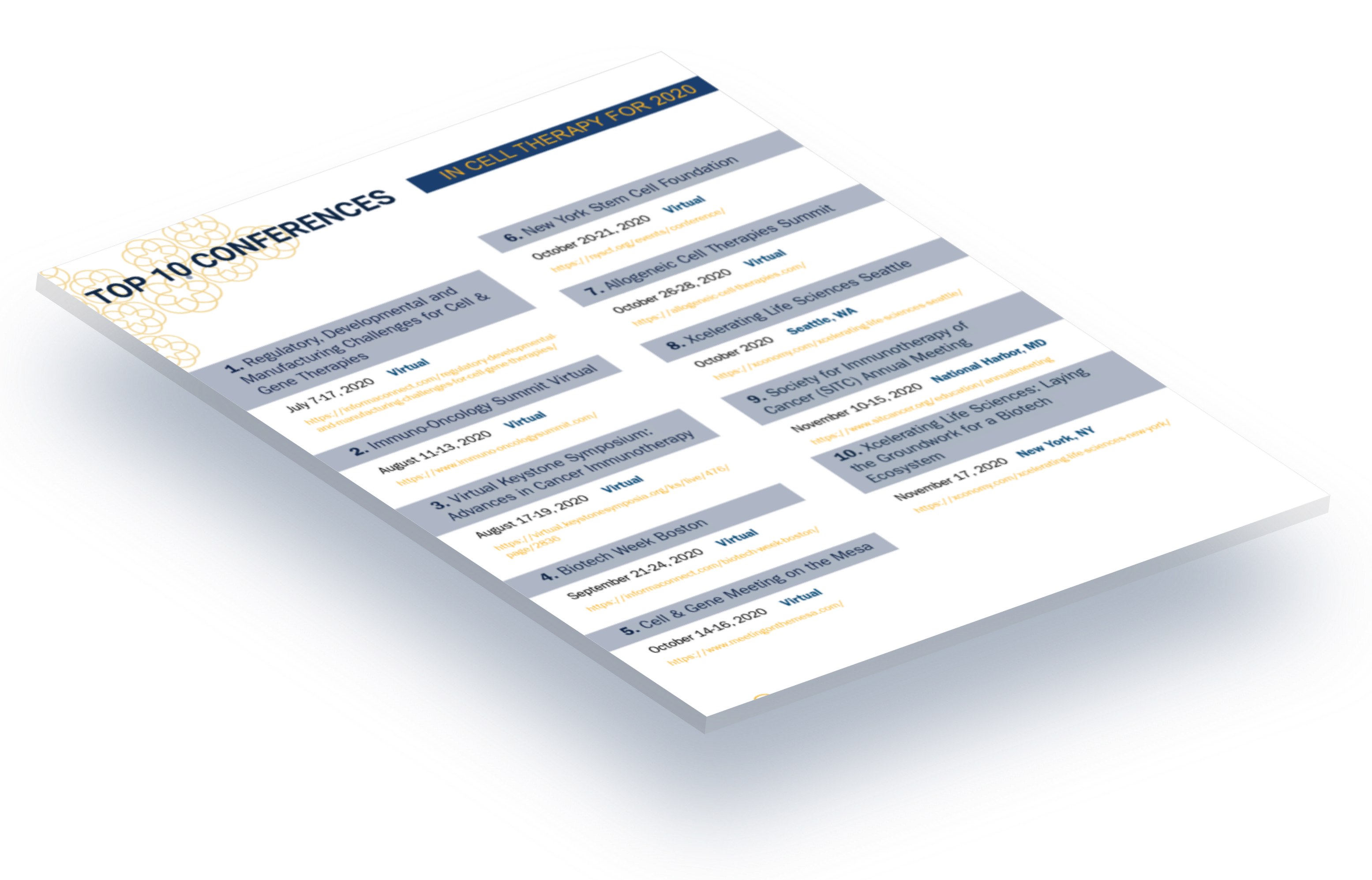 International Society of Cell & Gene Therapy (ISCT New Orleans)
Virtual
Dates: May 26th – 28th, 2021
Website: https://isct2021.com/
Why we like it: This conference features an international group of plenary speakers, including ISCT President, Bruce Levine, PhD. The virtual meeting will include 50+ presentations with three live tracks, complete with Q&A and on-demand access to follow. They will be organized into themed program content segments, addressing the core issues in cell and gene therapy translation.
Who should go: According to ISCT, they have assembled a remarkable forum and community that blends together experts in stem cell and progenitor cell biology, with engineers, clinicians, regulatory experts, measurement scientists, clinical trial experts, product developers, entrepreneurs, and ethicists.
World Stem Cell Summit
Virtual and in-person: Winston-Salem, NC
Dates: June 14th – 17th, 2021
Website: https://www.worldstemcellsummit.com/
Why we like it: WSCS has not yet released their agenda for this year's meeting, but topics include stem cells, biomaterials, cell therapies, clinical trials, regulatory matters, pathways to market, bio-manufacturing technologies and much more. Prior years have boasted 2000+ attendees from 44 different countries, 3000+ meetings arranged, and 710 companies represented. We are sure the 2021 Summit will offer a fantastic opportunity for interdisciplinary networking and partnering in the stem cell science and regenerative medicine field.
Who should go: According to their website, WSCS has a focus on translation and commercialization, attracting all stakeholders in the regenerative medicine universe. This conference should bring together leading scientists and clinicians, customers, investors, advocates, funders, legal experts, regulators, and patients.
Cell & Gene Meeting on the Mesa
Carlsbad, CA
Dates: Oct 12th – 14th, 2021
Website: https://meetingonthemesa.com/
Why we like it: Cell & Gene Meeting on the Mesa has not released the details on their 2021 conference. However, over 1,200 attendees – over 20% of which are C-level executives – were at last year's virtual conference. The 2020 meeting featured five days of one-on-one partnering meetings, 20+ panels & fireside chats, 120+ company presentations and 25+ virtual exhibit booths. Their 2021 conference is sure to offer exclusive networking opportunities and extensive partnering capabilities by bringing together senior executives and top decision-makers in the industry. The presentations will cover a broad range of topics from "clinical trial design to alternative payment models to scale-up and supply chain platforms for advanced therapies."
Who should go: Given the focus on bioproduction and business, this conference is great for those in the biotechnology space looking to expand their network and learn about how to overcome the commercialization obstacles facing the cell and gene therapy industry.
American Society of Hematology (ASH) Annual Meeting and Exposition – 63rd annual
Atlanta, GA / Virtual
Dates: Dec 11th – 14th, 2021
Website: https://www.hematology.org/meetings/annual-meeting
Why we like it: ASH has an impressive 18,000+ members from almost 100 countries, making it the world's largest professional society serving both clinicians and scientists around the world who are working to conquer blood diseases. As a result, their annual meeting is the most comprehensive hematology event of the year. This educational experience will give attendees the chance to review thousands of scientific abstracts highlighting the hottest topics in hematology.
Who should go: ASH Annual Meeting aims to promote research, clinical care, education, training and advocacy in hematology by facilitating the exchange of scientific information and clinical results. This meeting brings together researchers and clinicians to develop academic collaborations that will benefit patients.
Cellicon Valley
Virtual Symposium/ Philadelphia, PA
Dates: May 6th – May 7th, 2021
Website: https://www.med.upenn.edu/cellicon2021/
Why we like it: University of Pennsylvania's Abramson Cancer Center and the Children's Hospital of Philidelphia are home to the first FDA-approved cell and gene therapies. These international leaders have come together to present this virtual symposium, which will feature an assembly of world experts in cell and gene therapy discussing the current applications, best practices, novel strategies and future developments in the field. Symposium directors include immunotherapy giants Carl June, MD; Stephan Grupp, MD, PhD; Bruce Levine, PhD; and David Porter, MD.
Who should go: Cellicon Valley draws a largely academic and clinical audience as it intended for adult and pediatric hematologist-oncologists, medical oncologists, hematologists, hematopathologists, immunologists, immunobiologists, transfusion medicine, researchers, pharmacists, fellows, nurses, nurse practitioners, physician assistants, industry professionals and other healthcare professionals in the cell and gene therapy space.
American Society of Gene & Cell Therapy (ASGCT)
Virtual
Dates: May 11th – 14th, 2021
Website: https://annualmeeting.asgct.org/
Why we like it: This year's ASGCT conference features an incredibly impressive list of plenary speakers. Jennifer A. Doudna, PhD, the co-recipient of the 2020 Nobel Prize in Chemistry for her joint-discovery of the genome-editing tool CRISPR-Cas9, will be joining for a live fireside chat on the first day. Dr. Doudna is the Li Ka Shing Chancellor's Chair and a professor in the departments of chemistry and of molecular and cell biology at the University of California, Berkeley. Additionally, Michel Sadelain, MD, PhD – Director of the Center for Cell Engineering; Stephen and Barbara Friedman Chair at Memorial Sloan-Kettering Cancer Center – will be delivering the George Stamatoyannopoulos Memorial Lecture, and Robert L. Martuza, MD – William and Elizabeth Sweet Professor of Neuroscience in the Department of Neurosurgery, Harvard Medical School; Chief Emeritus, Neurosurgery, Massachusetts General Hospital – will be the presenter at the Presidential Symposium.
Who should go: The conference will cover a number of topics in gene and cell therapy. Examples include gene therapy in cancer, emerging pluripotent cell-based therapies, guidance for bio-industry professionals, racial justice in the gene therapy field, career and workforce development issues, and RNA therapies. The interdisciplinary topics make this a valuable conference for those in academia, bioproduction, clinical research, and beyond.
AAI Virtual IMMUNOLOGY2021
Virtual
Dates: May 10th – May 15th, 2021
Website: https://www.immunology2021.org/
Why we like it: AAI is the world's largest annual all-immunology meeting. This event will feature leaders in the field from around the world and present cutting-edge data in interactive poster sessions and block symposia in a digital format. As a result, attendees have the opportunity to attend any and all sessions as they can be viewed live or later on. This year's program offers a notable list of speakers. Because IMMUNOLOGY2020 was cancelled, both Dr. Jenny Ting, AAI President 2020-2021, and Dr. Jeremy Boss, AAI President 2019-2020 will be delivering a president's program this year. Additionally, this conference will feature a special session on COVID-19, including guests Anthony Fauci, MD, NIAID Director; Linda Saif, PhD.; and Akiko Iwasaki, PhD.
Who should go: This conference brings together thousands of scientists at every career stage to discuss their cutting-edge research. International leaders in immunology and talented trainees will participate, making this a great conference for anyone in the immunology field.
Onco-Cell Therapy Summit (OCTS) – formerly known as CAR-T Congress
Boston, MA
Dates: Nov 16th – 17th, 2021
Website: https://www.kisacoresearch.com/events/octs-usa-2021
Why we like it: OCTS brings the onco-cell therapy industry together to share novel research, manufacturing techniques, and regulatory best practice. Each session of this year's conference is dedicated to the "process of translating R&D into commercially viable oncological therapies." OCTS has a lineup of impressive speakers this year, including Dr. Kristen Hege, SVP of Early Clinical Development – Hematology/Oncology at Bristol Meyers Squibb; Paul Renner, Chief Scientific Officer at Aleta; and Tony Ho, Executive Vice President – Head of Research and Development at CRISPR Therapeutics.
Who should go: OCTS will be a great networking opportunity with industry experts from big pharma and biotech, cell therapy academics and clinicians, process standardization (technology/services), logistics companies (cell storage/transport), and service providers (CRO's, consultants, and government).
Allogeneic Cell Therapies Summit 2021
Virtual
Dates: May 17th – 19th, 2021
Website: https://allogeneic-cell-therapies.com/
Why we like it: The 3rd Allogeneic Cell Therapies Summit is the leading industry-dedicating meeting focused on the translation, manufacturing and commercialization of allogeneic cell therapies to improve patient care. This conference will bring together 200+ experts from pharma, biotech, and leading academia to discuss topics such as: strategies to improve cell infiltration in the solid tumor microenvironment, novel approaches in stem cell collection, next generation gene engineering and regulatory standards to ensure safe and efficacious development of these evolving therapies.
Who should go: Given the industry-focused nature of this conference, it is great for those in biotechnology, drug development, bioproduction for allogeneic cell therapy.
Frontiers in Cancer Immunotherapy
Virtual
Dates: May 12th – May 14th, 2021
Website: https://www.nyas.org/events/2021/webinar-frontiers-in-cancer-immunotherapy-2021/
Why we like it: This conference will convene experts in immuno-oncology to discuss the latest research in the field, featuring keynote speaker, Irving Weissman, MD, Stanford University. Other speakers include Katherine Hsu, MD, PhD, Memorial Sloan Kettering Cancer Center; Adelheid Cerwenka, PhD, Heidelberg University; and Kristen M. Hege, MD, Bristol Myers Squibb. Topics under consideration will include how insights from the immune response to infection can inform our understanding of cancer immunotherapy, the COVID-19/Immuno-oncology interface, advances in multiple myeloma, cytokines, novel checkpoints and more.
Who should go: Frontiers in Cancer Immunotherapy will appeal to those in academia and medicine. It will focus on the latest research in immunotherapy, including why some tumor types are refractive to immunotherapy and how to better predict patient responses to treatment.
Society of Immunotherapy of Cancer Annual Meeting (SITC)
Washington D.C
Dates: Nov 10th – 14th, 2021
Website: https://www.sitcancer.org/education/annualmeeting
Why we like it: While the SITC has yet to release the details for their 2021 meeting, SITC is the largest conference solely focused on cancer immunotherapy. The SITC Annual Meeting & Pre-Conference Programs brings together stakeholders across the cancer immunotherapy field to advance the science, discover breakthroughs and educate the world on cancer immunotherapy. This meeting will be a great multidisciplinary educational and interactive environment, focused on improved outcomes for all cancer patients.
Who should go: According to SITC, this meeting will be valuable for international leaders in academia, regulatory, and government agencies, as well as industry representatives.
Cell & Gene Therapy Conference
Virtual
Dates: Sep 28th – 29th, 2021
Website: https://reutersevents.com/events/cellandgene/
Why we like it: According to Reuters Events, this conference will bring together all the key stakeholders to define commercialization approaches and get solution to patients faster. While this year's list of speakers has not yet been released, past speakers include: David Lennon, President of Novartis Gene Therapies; Sandy Macrae, CEO of Sangamo Therapeutics; Kelly Page, Head of Global Cell Therapy Commercialization at Takeda; David Meek, CEO of FerGene, and many more.
Who should go: Cell & Gene Therapy USA is a conference for leaders in cell and gene patient identification, education and management, commercialization and strategy, manufacturing, payer and regulatory affairs, and access and pricing. This will be a valuable meeting for those in the pharma and biotech industries.
———————————————————-not included in PDF——————————————————
AABB Annual Meeting
Anaheim, CA
Dates: October 16th – 19th, 2021
Website: https://www.aabb.org/annual-meeting
Why we like it: AABB Annual Meeting is a wonderful opportunity for those in the fields of blood and biotherapies, as it brings together the latest research and practice-changing resources. Research will cover topics such as: biotherapies, cellular therapies, & immunotherapies; basic research in cell biology, immunology & biochemistry; transfusion service; immunohematology and genetic testing, etc.
Who should go: Physicians, nurses, scientists, researchers, administrators, medical technologists, and other health care providers will find this conference valuable.
For a more comprehensive and international list of conferences, please visit Bioinformant.com. There you'll find an amazing resource called the Ultimate Guide to Cell and Gene Conferences (2018-2019).
Get exclusive updates direct to your inbox.